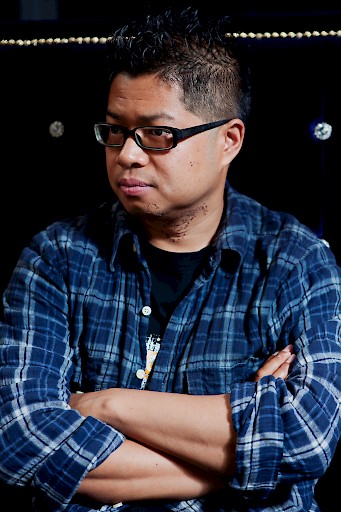 In 1996, Dickson's debut solo album "PAST" was released under Tzadik label (USA). Since then, he began to set foot on the creation field with musical styles ranging from avantgarde to experimental, music concrete, electronic, new classical, industrial noise, dance, electronic world jazz etc. He has performed under different names and formed several bands. For example, DJ Dee for electronic experimental music, Li Chin Sung for music concrete and avantgarde, PNF for industrial noise, Khoomi Sound Machine for electronic world jazz, Dickson Dee for electronic acoustic, sampling cut 'n' paste and turntablist. Mars News Ensemble for mixed film, music, multimedia art project.
He has collaborated with many artists such as Zbigniew Karkowski, Otomo Yoshihide, Sainkho Namtchylak, Maja Ratkje,Sachiko M,Tom Thiel, Werner Dafeldecker, Patrick Pulsinger, Cdrk,Tujiko Noriko, Tetsuo Furadate,Yoshida Tatsuya, Keiji Haino,Adichi Tomomi, Astro, Makigami Koichi,Kang Taehwan ,Lawrence English, Electronicat ,Wang Fan,Zhang Zhu,Wang Yong, Park Je Chun, Jonas Hellborg, VJ Milosh, Dr Das, Martijn Tellinga, Huun Huur Tu, Xu Fengxia, Peter Brotzmann, Cai Yayi, Florian Launisch, Christopher Chaplin, Richard Pinhas…. etc, also he was been invited to Venice Biennale(2013, 2015), Köln MusikTriennale, Fabbrica Europpa(2016, 2014, 2015),Yokohama Triennale, Kitakyushu Biennale, Moving Closer Poland, Huayi Festival Singapore, Shenzhen Biennale of UrbanismArchitecture(2008, 2006, 2010), New Vision Art Festival Hong Kong(2006, 2010, 2018), Silk Road Art Festival Hong Kong, Arts Festival Folk and Modern Korea, Clandestino Festival Sweden,Taipei City Festival, Hanoi Sound Stuff Festival Vietnam,Guangzhou Film Festival, Guangzhou Modern Dance Weeks, Bergen International Festival, The Spirit of Tengri Festival, Urban Nomads(Ulan Bator, Berlin), Shanghai International Art Festival(2013, 2015), Festival International Art Costa Rica, Hong Kong Art Basel, Korea Jeonju Int'l SORI Festival, International Poetry Nights in Hong Kong(2015,2017,2019), Beijing Dance Weeks …..etc
Dickson set up his personal label Dicksonia Audio beside Noise Asia, which concentrates on the release and publishing of his own works. This provides more freedom and convenience to further develop his creativity.
Besides concerts, Dickson also appears in art academy and university for workshops and lectures to share his experiences with students, hoping to trigger their interest on sound art and music; furthermore, to give them a better understanding on the different aspects of music.
Discography
Li Chin Sung
1996 Li Chin Sung – Past / CD – Tzadik (USA)
2004 Li Chin Sung – San Yuan Li Soundtrack / CD – Dicksonia Audio (HK)
2005 Li Chin Sung+Zbigniew Karkowski – The revenge of Ying and Yang / CD – Noise Asia (HK)
DJ Dee
2003 DjDee – Sunday / CD – Dicksonia Audio (HK)
Dickson Dee
2007 Zbigniew Karkowski,Torturing Nurse,Dickson Dee-penetration / CD -PACrec131 (USA)
2008 Dickson Dee +Tomasz Pauszek -Chop vol:2 / CDR -WePlay (China)
2009 Dickson Dee +Zbigniew Karkowski -Staticizer /3″CD – Noise Asia (HK)
2009 ASTRO/Hiroshi Hasegawa + Dickson Dee -Don't Noise / CD – Noise Asia (HK)
2009 Sainkho Namchylak + Dickson Dee -Tea Opera / CD – LEO Records (UK)
2010 Zai Kuning+Otomo Yoshihide+Dickson Dee - BOOK FROM HELL/ CD – Doubt Music (Tokyo)
2010 Dickson Dee – modern dance Sang Jijia's - As If To Nothing / CCDC / DVD (HK)
2011 Dickson Dee+PBK, Orgasm Denial, Radom Emotionally Deformed / MC - Noiseambient(USA)
PNF
1995 PNF-I / MC+Book - Dicksonia Audio (HK)
1997 PNF-2 /CDR - Dicksonia Audio (HK)
2005 PNF+TN / CDR - Shasha Records (China)
2007 PNF+Rones+DJ Monkey - live in Forget It Bar Guilin / 3″CDR – Little Sound (China)
Compilation
1992 PNF - Malimalihung – Sound Factory / CD (HK)
1995 PNF - Ommanipadmehum – Sound Factory / CD (HK)
1995 PNF - Tribute to Derek Jarman – Blue – Somnus / CD (Canada)
1997 PNF - Soundtracks for bride of sevenless -Auscultare / CD (USA)
1997 Dickson Dee - Ground Zero – Conflagration remix – Sank-Ohso / Creativeman / CD (Japan)
1999 PNF - Turntable Solos -Amoebic / CD (Japan)
2003 PNF - Landscape -Landscape Music / CD (China)
2003 DJDee - Silent agreement – Silentagreement / CD (Taiwan)
2005 PNF - The sound of silence project -Reconfiguration Records / CD (China)
2005 DjDee - Friday – compilation – Shanshui Record / CD (China)
2006 DjDee - nonetheless, from east to heaven -Table108 / CD (Singapore)
2006 DjDee - What's the Modern? revolution?Model? / 2CD (China)
2007 Li Chin Sung & Tibetan Friends - Yin / Beyond Ignorance And Borders / CD (Belgium)
2007 Li Chin Sung Trio - One Blue Sky / Beyond Ignorance And Borders - 2007/ CD (Belgium)
2007 Dickson Dee - Otomo Yoshihide's New Jazz Orchestra – Live Vol. 1: Series- Circuit / CD (Japan)
2007 Dickson Dee - Otomo Yoshihide's New Jazz Orchestra – Live Vol. 2: Parallel -Circuit / CD (Japan)
2007 Li Chin Sung - V.A-AN ANTHOLOGY OF NOISE & ELECTRONIC MUSIC Vol:5 – Sub Rosa / 2CD (Belgium)
2009 Dickson Dee + Otomo Yoshihide - music for Milosh / DVD (France)
2009 Li Chin Sung - V.A-An Anthology of Chinese Experimental Music – Sub Rosa / 4CD(Belgium)
2010 Dickson Dee - VA -An Anthology of Electronic & Noise Music – Sub Rosa / 2 CD(Belgium)
2010 Dickson Dee - Noise: Various Artists CD+Book, released by Monad Dec 2010
2012 Dickson Dee - Jazz Improvise Meeting Festival compilation vol: 1, released by Noise Asia (HK)
2014 Dickson Dee - NO BULLSHIT A Sonic Tribute to Zbigniew Karkowski / 1958-2013,
released by SONM, Initiated and coordinated by Francisco López / DVD
2014 Dickson Dee - Jazz Improvise Meeting Festival compilation vol: 2, released by Noise Asia (HK)
2015 Dickson Dee - Jazz Improvise Meeting Festival compilation vol: 3, released by Noise Asia (HK)
2017 Dickson Dee - Jazz Improvise Meeting Festival compilation vol: 4, released by Noise Asia (HK)
2017 Li Chin Sung - VA - Poetry & Sound - HKPFF+Noise Asia (HK)
2018 Dickson Dee - Jazz Improvise Meeting Festival compilation vol: 5, released by Noise Asia (HK)
2018 Dickson Dee - VA - Uchronia 3D set Limited Edition - Syrphe (Germany)
2019 Dickson Dee - Jazz Improvise Meeting Festival compilation vol: 6, released by Noise Asia (HK)
2020 Dickson Dee - HK now - East Asia PhoNographic Mornings by Each Morning of the World (France)
Commission Projects
2006
- AUDIO:ELF / Soccer World Cup Sound Project
commissioned by Museum für Angewandte Kunst, Koln (Germany)
- Li Chin Sung & Khoomii Sound Machine
commissioned by New Vision Festival (Hong Kong)
2008
- Otomo Yoshihide, Zai Kunning, Dickson Dee
commissioned by Esplanade (Singapore)
- Dickson Dee + Alessandro Carboni -Unrealistic figures between map and shadows
commissioned by Dawang Culture Highland Shenzhen (China)
2009
- Dickson Dee -As If To Nothing, music for modern dance
commissioned by CASH Hong Kong / CCDC (Hong Kong)
2011
- Li Chin Sung - Beyond Calligraphy Liu Qi(choreographer)
commissioned by GDMDC Guangzhou
2014
- Dickson Dee -Momentum, multimedia art project
commissioned by CCDC/Media Lab (Hong Kong)
- Dickson Dee - Pathos, music for modern dance
commissioned by APA/ CASH Hong Kong (Hong Kong)
2015
- Dickson Dee sound installation for light art with Cao Fei
commissioned by Art Basel (Hong Kong)
- Dickson Dee - PaEthos, music for modern dance
commissioned by Fabbrica Europa/ Florence (Italy)
- Dickson Dee - Between N39 and N49-music for modern dance, Lu Yahui (choreographer)
The 17th Shanghai International Arts Festival 2015 (Shanghai, China)
2016
- Dickson Dee - Fragile Beauty - music for modern dance, Sang Jijia(choreographer)
commissioned by CCDC & CASH(Hong Kong) 2016
2017
- Dickson Dee - Post-Perception/Transcendence - music for dance, Sang Jija(choreographer)
commissioned by CCDC (Hong Kong) 2017
2018
- Dickson Dee - Cao Fei, Prison Architect. Commissioned by Tai Kwun Contemporary 2018
- Dickson Dee - Mr Blank/music for modern dance, Sang Jijia(choreographer)
commissioned by CCDC & CASH(Hong Kong) 2018
Festival
2002
- "Urban + Aboriginal xv : China" at Podewil, Berlin 2002 / Berlin,Germany

2003
- 50th Venice Biennial 2003 / Venice, Italy

2005
- 1st Weather Brain Festival 2005 / Taipei
- Yokohama Biennial 2005 / Yokohama, Japan
- Asian Meeting Festival 2005 / Tokyo, Japan
- 1st Shenzhen Architecture Biennial 2005 / Shenzhen, China
- The MUTEK Festival 2005 Shenzhen, China
- 2nd Weather Brain Festival 2005 / Taipei
- Arts Festival Folk and Modern Korea 2005 /Korea
- Guilin Rock Festival 2005 / Guilin, China
- Polish Sound Art in China 2005 / 4 cities tour/ China

2006
- Korea Yensan Festival 2006 /Yensan, Korea
- New Vision Art Festival 2006 / Hong Kong
- Make It Louder 2006 / Shenzhen, China
- Clandestino Festival 2006 / Sweden
- ASEF -I'MPULSE CLANDESTINO, 4TH ASIA-EUROPE MUSIC CAMP 2006 / Sweden
- "Awakening Battersea",China Power Station part I,Battersea Power Station,Serpentine Gallery ,2006 /London.,UK
- Polish Sound Art in China 2 -2006 / Shenzhen, Guangzhou, Shanghai, Beijing.China
- SAND Festival 2006 / Hong Kong

2007
- Köln MusikTriennale 2007 /Köln, Germany
- 5th Taipei City Festival─2007 /Taipei
- Korea Gumi Culture Festival 2007 / Seoul, Korea
- DIAL-A-DIVA -24 hour, global telephonic phonecast 2007 / Norway+UK
- Make It Louder 2007 / Guangzhou, China
- Moving Closer Festival 2007 / Warsaw, Poland
- Chinese Sound Art in Poland 2007 (5 city tour in Poland)
- 2nd Shenzhen Architecture Biennial 2007 / Shenzhen, China
- 1st Odos Rock Festival 2007 /Odos, China
- Kitakyushu Biennial 2007 /Kitakyushu, Japan
- Hanoi Sound Stuff Festival 2007 /Hanoi, Vietnam

2008
- NOTCH Festival 2008 /Hong Kong
- Hanoi Sound Stuff Festival 2008 / Hanoi, Vietnam
- China Avant-Garde Music Festival 2008 / Beijing, China
- Guangzhou Film Festival 2008 / Guangzhou, China

2009
- Hong Kong Silk Road Festival 2009 / Hong Kong

2010
- Hanoi Sound Stuff Festival 2010 / Hanoi, Vietnam
- Beijing Modern Dance Week Festival 2010 / Beijing, China
- Fabbrica Europpa 2010 / Florence, Italy
- Electronic Worlds Festival 2010 (China tour)

2011
- Elektroakustischer Salon – Art's Birthday 2011 / Berlin, Germany
- Audio Art Festival2011 / Krakow, Poland
- 8th Guangdong Modern Dance Festival / 2011 / Guangzhou (China)
- Don't Panic Festival and Showcase" 2011 / Warsaw, Poland
- Huayi Chinese Festival of Arts 2011 / Singapore, Singapore
- Carolina Performing Arts 2011 / North Carolina (USA)

2012
- Chengdu Big Love Music Festival 2012 / Chengdu, Beijing, China
- UCCA Culture Festival 2012 /Beijing, China
- Jazz Improvise Meeting Festival 2012 / Shenzhen, Shanghai, China
- Shanghai Conservatory of Music New Music Week 2012 / Shanghai, China

2013
- Bergen International Festival 2013 / Bergen, Norway
- The Spirit of Tengri – Festival of Contemporary Ethnic Music 2013 / Almaty, Kazakhstan
- Beijing One Performing Art Festival 2013 - Beijing, China
- Urban Nomads 2013 / Ulan Bator, Mongolia
- The 15th Shanghai International Arts Festival 2013 / Shanghai, China
- Jazz Improvise Meeting Festival 2013 / Shenzhen, Shanghai, Beijing / China
- "The Spirit of Tengri" Almaty 2013
- Bergen International Festival 2013 / Bergen / Norway

2014
- Festival International Art 2014 / Costa Rica
- Urban Nomads 2014 / Berlin
- Fabbrica Europpa 2014 /Florence, Italy

2015
- Art Basel Hong Kong 2015 / Hong Kong
- Fabbrica Europpa 2015 / Florence, Italy
- The 17th Shanghai International Arts Festival 2015 / Shanghai, China

2016
- Hong Kong Poetry In Hong Kong 2016 / Hong Kong
- International Poetry Night in Hong Kong 2016 / Hong Kong
- 3rd Have Fun Festival 2016 /Shenzhen, China
- iD Town Sound Live Art Festival 2016 / Shenzhen, China
- 8th Beijing Modern Dance Week 2016 / Beijing, China
- 10th OzAsia Festival 2016 / Adelaide, Australia
- Bijiashan International Public Art Week2016 / Shenzhen, China
- 2nd Shenzhen International Photography Week 2016 / Shenzhen, China
- Guangdong Modern Dance Week 2016 / Guangzhou, China
- ChoP Festival 2016 / Hong Kong, Shenzhen, China

2017
- Bijiashan International Public Art Week 2017 / Shenzhen, China

2018
- Artsnap / New Vision Art Festival 2018 Hong Kong
- Jazz Improvise Meeting Festival 2018 / Shenzhen, Guangzhou, Beijing, Ruijin / China
- Bijiashan International Public Art Week 2018 / Shenzhen, China
- Fringe Festival Shenzhen 2018 / Shenzhen China

2019
- Bijiashan International Public Art Week 2019 / Shenzhen China
- Suzhou Design Week 2019 / Suzhou China
- Jazz Improvise Meeting Festival 2019 / Shenzhen, Guangzhou, Beijing, / China
- International Poetry Nights in Hong Kong 2019 / Hong Kong

2020
- 11st Shenzhen Fringe Festival 2020 / Shenzhen

2021
- 5th Times Museum Community Art Festival 2020-2021 / Guangzhou
Soundtrack Works:
1997
-Short film - CaoFei (video art China) / China1997
2000
-Chain Reaction - Cao Fei (video art China) / China 2000
2003
-San Yuan Li - music for film - Ou Ning & Cao Fei (director) / China 2003
-Busy Meditating - music for video art - Chan Pikyu (director) commission project from Vienna /Austria 2003
-Burners - music for short film - Cao Fei (director) / China 2003
2006
-DA Za Lan - music for film - Ou Ning & Cao Fei (director) / China 2006
2007
-临池 Upon Calligraphy - music for modern dance – LiuQi (Choreographer )/GDMC / China 2007
-Around - music for video art - Liang Guo Jian (director ) / China 2007
2008
-City Race - music for modern dance - LiuQi (Choreographer )GDMC / China 2008
-2nd Shenzhen Biennale "title film" - Ou Ning, doc-film / China 2008
-Short film -music for short film - Maggie (director) / China 2008
-Orbital - music for video art - Liang Guo Jian (video director ) / China 2008
2009
-Thomas Mao - music for the film - Zhu Wen (film director) / China 2009
-WBNR/Platform #8 HK – music for modern dance - Alessandro Carboni (Choreographer) / Hong Kong 2009
-Unrealistic figures between map and shadows: Shenzhen - music for video art - Alessandro Carboni (director) / China 2009
-As If To Nothing - music for modern dance - Sang Jijia (choreographer) with CCDC/ Hong Kong 2009
2010
-"In-Sight" - music for modern dance - Cathy Cheung Sau King (choreographer)/Turbulent River Dance Theater / Hong Kong 2010
-"Standing Before Darkness" - Sang Ji Jia (Choreographer ) with LDTX dance company / China 2010
-"At This Moment" - music for modern dance - Cathy Cheung Sau King (choreographer)/Turbulent River Dance Theater/ Hong Kong 2010
2011
-Beyond Calligraphy - music for modern dance - Liu Qi (choreographer) GDMDC / China 2011
-Unspeakable - music for modern dance - Sang Jijia (choreographer) / LDTX dance company / China 2011
-Talk To Him - music for modern dance - Lu Fan/CCDC / Hong Kong 2011
-On the road - music for modern dance - Yifan / UCCA Culture Festival / China 2011
2012
-"Connection & Refreshment" - music for modern dance - Liu Qi +Elle(choreographer) / Hammerfest/DanseFestival Barents / Norway 2012
-"Tang and Song" - music for ballet dance -Hou Ying (choreographer) /Guangzhou Ballet Dance Company / China 2012
2013
-"Layer Code" - music for modern dance – Sang Jijia (choreographer) /LDTX dance company / China 2013
-"Not Here/ Not Ever" - music for modern dance – Sang Jijia(choreographer) / Carte Blanche / Norway 2013
-Burning - music for modern dance – Hou Ying (choreographer)/ HouYing Dance Theatre / Beijing 2013
-"冉" - music for modern dance – Hou Ying (choreographer)/ HouYing Dance Theatre / Shanghai 2013

2014
-"Momentum pt1"- music for modern dance -Xing Liang, Mui Cheuk-Yin (choreographer) Hong Kong 2014
-"Momentum pt2" - music for modern dance, sound & video installation in 1a Space/ concept Dickson Dee (Hong Kong) 2014
-"Pathos" - music for modern dance, Sang Jijia(choreographer) / APA student 2014
-"Hyperchoreography" - music for video and sounds installation, Sang Jijia, SimonFildes(director) / Hong Kong 2014
-"La Town" - music for film, Cao Fei (film director) 2014
2015
-"Same Old, Brand New "- music for light art installation on ICC for Art Brasel HK 2015, Cao Fei(light art director) 2015
-"Wu" - music for modern dance, Fu Xingban (choreographer) 2015
-"PaEthos" - music for modern dance, Sang Jijia(choreographer) / opening program for Fabbrica Europpa 2015
-"Rumba II: Nomad" for the exhibition "No Longer / Not Yet" - music for the video art, Cao Fei (film director) Commissioned by GUCCI 2015
-"Between N39 and N49"- music for modern dance, Lu Yahui (choreographer) 2015
2016
-"Fragments" - music for modern dance, Lam Po (choreographer) / Hong Kong Art Festival 2016
-"Fragile Beauty" - music for modern dance, Sang Jijia(choreographer) / CCDC / Hong Kong 2016
2017
-"My Dear Friends" - music for film / 2017
2018
-"As It Were" - music for modern dance, Sang Jijia(choreographer) / Sweden Royal Opera House / 2018
-"Mr Blank" - music for modern dance, Sang Jijia(choreographer) / CCDC / Hong Kong 2018
-"Prison Architect" - music for film, Cao Fei (director) / Hong Kong 2018
2019
-"In That Moment" - music for modern dance, Yan He (choreographer) / Beijing 2019
2020
"Mr Blank" - re-run version, music for modern dance film, Sang Jijia(choreographer) / CCDC / Hong Kong 2020
Workshop
2005
-Dickson Dee – CCA / Japan 2005
-Dickson Dee + Zbigniew Karkowski – UniversityTokyo / Japan 2005
2006
-Dickson Dee – Shanghai Academy of Music /China 2006
-Dickson Dee – Karkrov Academy of Music / Poland 2006
2008
-Dickson Dee – Beijing University / China 2008
2009
-Dickson Dee – Vietnam National Academy of Music -Hanoi / Vietnam 2009
2011
-Dickson Dee – Karkrov Academy of Music / Poland 2011
2013
-Dickson Dee – Shaw Modern Art University / Beijing 2013
-Dickson Dee – Mongolian State University of Culture and Arts/SUIS / Ulan Bator 2013
-Dickson Dee – Rock Bund Art Museum / Shanghai 2013
2015
-Dickson Dee - Jazz Improvise Meeting Festival workshop / Shenzhen 2015
2016
-Dickson Dee + Cdrk - OCAT / Shenzhen 2016
-Dickson Dee + Cdrk - 联合书店珠江新城店 / Guangzhou 2016
-Dickson Dee + Cdrk - Hotel WIND / Xiamen 2016
2018
-Dickson Dee - WWY music workshop / Kaohsiung 2018
2020
-Dickson Dee - sound workshop - Nan Tou City fringe Rooftop / 11st Shenzhen Fringe Festival 2020
2021
-Dickson Dee - Sound & Composition workshop - 5th Times Museum Community Art Festival / Guangzhou 2021
Exhibition
2009
-Dickson Dee - Sound & Visual installation -Shan Juan Art Center / Shenzhen 2009
2010
-Li Chin Sung -print art+sound installation – Guan Shanyue Art Museum/Shenzhen 2010
2014
-Dickson Dee - Momentum pt2 - 1a Space /Hong Kong 2014
-Dickson Dee - Hyperchoreography - music for video and sounds installation, Fringe Club HK, 2014
-Dickson Dee- La Town/music for film, the exhibition at Lombard Freid Gallery, NY. Cao Fei (film director) 2014
2015
-Dickson Dee- La Town/music for film, the exhibition at Venice Biennial, Italy. Cao Fei (film director) 2015
-Dickson Dee - La Town/music for film, Cao Fei (film director)London Film Festival 2015
-Dickson Dee - with Cao Fei / Gucci to Open 'No Longer/Not Yet已然/未然 'Exhibition Beijing 2015
2016
-Dickson Dee - here is Zine #12 / Tokyo exhibition 2016
-Dickson Dee - here is Zine #12 / Hong Kong exhibition 2016
2017
-Dickson Dee - here is Zine #12 / Shenzhen exhibition 2017
2018
-Dickson Dee - Cao Fei, Prison Architect, 2018. Commissioned by Tai Kwun Contemporary 2018
2020
-Dickson Dee - Exhibition AUDIOSPHERE: SOCIAL EXPERIMENTAL AUDIO,
-Museo Nacional Centro de Arte Reina Sofía, May 26th through September 21st 2020
Curator
2003
-Macau Chinese film festival 2003 / Macau
2005
-Polish Sound Art in China 2005
-Modern Music Festival 2005 / Guangzhou
2006
-ASEF -I'MPULSE CLANDESTINO, 4TH ASIA-EUROPE MUSIC CAMP 2006 / Sweden
-Polish Sound Art in China 2006 (4 city tour)
-Chinese Sound Art in Poland 2007(6 city tour)
2007
-5th Taipei City Festival─2007 / Taipei
-Hanoi Sound Stuff Festival 2007 / Vietnam
-Norway +3db Asia Tour 2008 (7 city tour) / Singapore, Taipei, Shenzhen, Xiamen, Foshan, Guangzhou, Macau
2008
-Hanoi Sound Stuff Festival 2008 / Vietnam
2009
-An Anthology of Chinese Experimental Music- 4 cd boxset for Sub Rosa. 2009 / Belgium
2010
-Overlapping Discrete Boundaries – 6 Asia City Tour 2010
-Hanoi Sound Stuff Festival 2010 / Vietnam
-French-Chinese Music Festival 2010 -4 city tour / China
2011
-music week for Xiangyunsha Art Festival 2011 / Shenzhen
2012
-Jazz Improvise Music Festival 2012 / Shenzhen, Shanghai, Beijing, Shungyung
-Fringe Festival Shenzhen 2012 / Shenzhen
2013
-Sun Chengyi – Norway photo exhibition 2013 / Shenzhen
-Sainkho "Food Art"exhibition 2013 / Shenzhen
-"Urban Nomads" Germany Mongolia culture exchange project in Ulan Bator 2013 / Ulan Bator
-Jazz Improvise Music Festival 2013, 3 cities / Beijing, Shenzhen, Shanghai
2015
-Jazz Improvise Music Festival 2015, 4 cities / Shenzhen, Xiamen, Guangzhou, Nanzhou
-International Poetry Nights in Hong Kong 2015 / Hong Kong
2017
-International Poetry Nights in Hong Kong 2017 / Hong Kong
-Jazz Improvise Music Festival 2017
2018
-Jazz Improvise Music Festival 2018, 4 cities / Shenzhen, Guangzhou, Beijing, Raijin
-Musicity Shenzhen 2018 / Shenzhen
2019
-Jazz Improvise Music Festival 2019, 3 cities / Shenzhen, Guangzhou, Beijing
-Bijiashan International Public Art Week 2019 / Shenzhen/China
-International Poetry Nights in Hong Kong 2019 / Hong Kong
-Hong Kong International Poetry Festival 10th Anniversary Charity Reception and Poetry Concert 2019 / Shanghai
2020
-Sunset Concert / 5th Times Museum Community Art Festival 2020-2021 / Guangzhou
Selected Live Performance
PNF
1992
-Mar - Hong Kong (with I666)
-July - Hong Kong (with Otomo Yoshihide)
1995
-Sept -Taipei( Underground Music Festival )
2004
-October -Shanghai (with Torturing Nurse, Wang Fan)
2007
-Jan – HK @ Dejavu ioioi +PNF China concert
Li Chin Sung
1997
-October -Guangzhou solo concert with guest Wang Lei, Moz
1998
-October -Guangzhou, Beijing (with Otomo Yoshihide + Sachiko M)
2002
-October -Guangzhou, Macau (Li Chin Sung Mongolian Trio )
-July -Shanghai, Guangzhou (with Sachiko M)
-November – "Urban + Aboriginal xv: China" at Podewil, Berlin
2004
-Jan - solo – "Generator – Singing Dragons" sound and video art project at Vienna Concert Hall, Vienna
-Jun - solo in Ausland with guest Werner Dafeldecker, Berlin
-Jun - Poland 5 city Tour – Krakow, Warsaw, Lublin, Boznan, Gdansk
-Aug - Beijing@Count Yard Gallery (solo, play San Yuan Li film music), Beijing
-Oct - Shanghai@Duolun Art, Shenzhen@Base Bar (with Sainkho Namtchylak), Shenzhen, Shanghai
2005
-May - Guangzhou@GDMC (with Cdrk, Guangzhou Modern Dance), Guangzhou
-Jun - Guangzhou@GDMC (with Guangdong Modern Dance Company, Izumi Nikaido, Michael), Guangzhou
-Jun - Guangzhou@GDMC ( with Lawrence English, GZ Modern Dance), Guangzhou
-Jul - Beijing@Beijing Workers' Stadium (with Zhang Chu), Beijing
-Jul - Guangzhou@GDMC (with Zbigniew Karkowski, Modern Dance Company), Guangzhou
-Jul - Guangzhou@Park19 (with Zbignbiew Karkowski, Justin, Zhang Chu), Guangzhou
-Aug - Korea Folk and Modern Festival, Seoul
-Aug - OX-House (with Tujiko Noriko, summer sweat music show), Macau
-Dec - Japan@Musashino Art University( with Zbigniew Karkowski- lecture & concert), Tokyo
-Dec - Japan@Yokohama Stormy Monday (with Tatsuya Yoshida, Astro, Tetsuo Furudate, Tomoi Adachi, Zbigniew Karkwoski)
-Dec - Japan@Tokyo Fourth Floor (with Zbigniew Karkowski, Tetsuo Furudate, Tomoi Adachi)
-Dec - Guilin Park ( Guilin Rock Festival), Guilin
2006
-Feb - Mar -China tour with Zbigniew Karkowski @HK, Chengdu, Shenzhen, Shanghai, Beijing 7 concert 5 workshops from 9th Feb – 9th March
-Aug - Mongolia @ concert hall ( Khoomii Sound Machine), Ulan Bator
-Aug - China tour with Lawrence English (Taiwan, Hong Kong, Shenzhen, Foshan, Shanghai)
-Sept - HK@ HHCC -foyer stage (Li Chin Sung+2 khoomii singer 30min performing)
-Oct - HK @HK Culture Centre out door concert)
-Nov - HK @Hong Kong City Hall ( Khoomii Sound Machine concert)
-Dec - Shenzhen @ Shenzhen City Conference concert
2007
-Jan - Shenzhen @ Mooka Space (Park Je Chun, Miyeon, Zenlu)
-May - Koln @ MusikTriennale Köln- San Yuan Li film music solo
-May - Koln @ MusikTriennale Köln-Li Chin Sung & Khoomii Sound Machine
DJ Dee
2003
-Aug - Taiwan tour (4 concerts with trumpet + dulcimer)
-Sept - Xian China @"八又二分之一" bar
-Oct - Taiwan (Weather In My Brain Festival)
-Nov - Guangzhou, Shanghai, Macau (with Zbigniew Karkowski)
2004
-Feb - Wuhan, Guangzhou (with Thomas Fehlmann)
-May - Hong Kong solo in Mackie bookstore
-Oct - Taiwan (Weather In My Brain Festival, Otomo, Haino, Zbigniew)
-Oct - Shanghai
-Nov - Shanghai, Shenzhen (with Patrick Pulsinger + Werner Dafeldecker)
2005
-Mar - Mutek Shenzhen@OCAT (with Deadbeat, Egg, Crackhaus…)
-Mar - Guangzhou@GDMC (with Maja, Guangzhou Modern Dance)
-May - Shenzhen@BaseBar (with Cdrk, Zenlu)
-Aug - Guangzhou@Park19(with Zenial, Electronicat, Matthias)
2006
-Mar - Shenzhen@Basebar (with Jazzkammer, Cheewai)
-Mar - Guanhzhou@Tang Club (with Jazzkammer, Cheewai)
-May - Shenzhen@Chilango Bookstore (with Zenlu, Marqido, Itta, Abai, HuangJian,..)
-Dec - Shenzhen @ Mooka Space /OCAT – live set
-Dec - Guangzhou @ Gula Djdee+Zenlu+guest Gula opening concert
2007
-March - Shenzhen @ Mookaspace (with Liang Quang )
Dickson Dee
2004
-Jul - Poetry Summer- live music for poetry@Hong Kong Convention and Exhibition Centre
2005
Sept
- Yokohama 2005 International Triennale of Contemporary Art opening party( Dee solo with San Yuen Li film, with Reiko A {dance}, Inryo Fuen, Nakano Kei {visual})
- Asian Meeting Festaival@Shinjuku PIT INN (with Hong Chulki, Choi Joonyong, Ryu Hankil, Jin Sangtae, Jo Foster, Yukie Sato,I.S.O./ONJO special version with Yoshimitsu Ichiraku, Sachiko M, Masahiko Okura, Kenta Tsugami, Taisei Aoki, Hiroaki Mizutani, Kumiko Takara, Yasuhiro Yoshigaki, Taku Hannoda, Atsuhiro Ito, and Toshimaru Nakamura..) / Tokyo
Dec
-Yokohama 2005 International Triennale of Contemporary Art ending party( Dee solo + trio set with Makigami Koichi, Kang Taehwan)
- Kitakyushu sound wrokshop@CCA(with Keiji Haino)
2006
Feb
- Singapore@Table 108 (guest Nawaz Mirajkar-tabla)
- Indonesia@Bandung-Rumah Musik harry Roesli( guest Biosampler from Bandung)
June
- Shanghai@Yuyingtang(with Taku,Jean-Luc,Mattin,Danzler)
- Guangzhou@Windflowers(with Taku, Jean-Luc, Mattin, Danzler)
- Sinagpore@Singapore Art Museum(with Tatsuya Yoshida, Yuen Chee Wai, Koichi Shimizu, Zai Kuning, Tim O'Dwyer)
- Bangkok@About Cafe (with Tatsuya Yoshida,Man Under Zero Effort, Assajan Jakgawan)

Aug
- Beijing @ D22 (guest White)

Sep
- Polish sound Artists china tour-Guangzhou,Foshan,Shnaghai, Beijing(with Miho Iwata, Olga Szwajgier, Marek Choloniewski, Tomasz Choloniewski, Wlodzimierz Kiniorski, Krzysztof Knittel, Wojtek Kosma, Miłosz Luczynski, Darek Makaruk, Rafal Mazur, Kazimierz Pyzik, Lukasz Szalankiewicz)
- Korea Yensan Festival (with Nelson Hiu, Park Je-Chun,…)

Oct
- Brisbane @ The Judith Wright Centre of Contemporary Arts

Dec
- @ Modern Media gig / Guangzhou
- @ OCAT (playing reconstruction works of Tan) / Shenzhen
2007
Jan
- @ Gula (with Runar Magnusson, Zenlu) / Guangzhou
-Feb
- Mooka Space -We Play/Neo Sound / Shenzhen
- @ Gula, Shenzhen @ Mooka Space (with Werner Dafeldecker, China tour) / Guangzhou

-June
- Guangzhou, Shenzhen, HK concert (with EVOL, Tetsuo Furudate, Lucas Abala)
- Chinese Sound Art tour in Poland 5 cities (with Zenlu, Kenbo, Wu Wei)
- I'm PULSE 4th Clandestino 2007 – workshop & festival / Gothenburg
- July
- Ordos(Inner Mongolia), Beijing, Shenzhen tour( with Sainkho Namtchylak, Shinetsog) / Ordos
- Sept
- Hakada K @ Esplanade Singapore (with Otomo Yoshihide, Zai Kunning, Yuen Chee Wai, Jin Sang Tae,Vu Nhat Tan, George Chua, Atsuhiro Ito, Venzha Christiawan)
- Ensemble Link Together @ Nanjing, Guoyu, Foshan (with Wu Wei, Ulrich Moritz, Gert Anklam, Volker Schlott, Lucas Niggli,Raquele Magalhaes)
- Dial A diva @ Norway -global telephonic performance in 24hours nonstop
- Oct
- Dee Quartet @ Korea Gumi Culture Festival (with Shinetsog, Amba, Jamba) / Seoul
- Yoshiaki Kondoh, Jim O'Rourke, Sachiko M, Tetsuya Umeda, Otomo Yoshihide..) / Kitakyushu
- Kitakyushu Biennial @ Kitakyushu (with Astronoise, Yoshimitsu Ichiraku, Kahimi Karie / Kitakyushu
- Nov
- with Tom Thiel @ East Coast Park / Singapore
- @Taipei City Fables Festival / Taipei

- with Tuijiko Noriko@ Niniho Gallery / Foshan
- with Tuijiko Noriko @ Gula Space / Guangzhou
- with Bernhard Gal+Christof @ Niniho Gallery / Foshan
- with Colorir @ Niniho Gallery / Foshan
- with Bernhard Gal+Christof @ Gula Space / Guangzhou
- with Colorir @ Gula Space / Guangzhou
- Dec
- with Li Yuan Qing @ Shenzhen
- with Thiel @ Gula Space / Guangzhou
- withTom Thiel @ Ninihi Gallery / Foshan
2008
Jan
- with Runar Magmusson -Videotage / Hong Kong
- with Runar Magmusson+guest dancer -Feigallery / Guangzhou
- with Runar Magmusson+Kenbo – Ninliho Gallery / Foshan
- with Runar Magmusson -Triple J / Shenzhen
Feb
- with Santiago Latorre-Ninliho Gallery / Foshan
- with Santiago Latorre-GulaSpace / Guangzhou
Mar
- Dickson Dee @ Viet Art Center / Hanoi
- Dickson Dee @ Red Dot / Singapore
- with Peter Scheer -live film music / GZ film festival / Guangzhou
- Dickson Dee in Beijing Avant-Garde Festival – D22 / Beijing
Apr
- with 10 + ioioi – Ninliho Gallery / Foshan
- Kapital Band 1 + Dickson Dee + Zenlu – Videotage / HK
June
- Dickson Dee + Christopher Willits China tour / Shenzhen / Guangzhou / Foshan
Aug
- Dickson Dee -with GRENZENLOS 4 cities tour / Macau / Shenzhen / Guangzhou / Hong Kong
Sept
- Dickson Dee +Yoshihiro Hanno -China tour/ Guangzhou / Foshan / Shenzhen
Dec
- Sainkho Namchylak+Dickson Dee+Zhu FanQiong -Temple / Shenzhen
- Sainkho Namchylak+Dickson Dee+Zhu FanQiong +Peter Scheer-Mooka Space / Shenzhen
2009
Jan
-2nd- Dickson Dee+Sainkho Namchylak-Yugongyishan Club / Beijing
Mar
-25th - Dickson Dee- Youth Center Palace / HoChiMinh City
-28th - Dickson Dee solo-Hanoi Sound Stuff Festival / Hanoi
-29th - Dickson Dee film music solo-Hanoi Sound Stuff Festival / Hanoi
Apr
-9th - Dickson Dee+Lasse in Mooka Space / Shenzhen
-25th - Dickson Dee + Sainkho Namchylak -in Sunflower art space / Shenzhen
May
-15th - Dickson Dee -sound & visual installation -Shan Juan Art Center / Shenzhen
-16th - Dickson Dee -live film soundtrack performing & installation for art exhibition -Dawan Culture Highland / Shenzhen
Jun
-6th - Dickson Dee -WEF on tour in China / Foshan
-9th - Dickson Dee+Sainkho Namchylak -DOM / Moscow
-10th - Dickson Dee+Sainkho Namchylak / St Peterburg
-26th - Dickson Dee+Alexsandro Carboni -1a Space / HK
July
-4th - Dickson Dee + Alexsandro Carboni – Dawang Culture Highland / Shenzhen
Aug
-29th - Dickson Dee + Astro / Beijing
-25th - Dickson Dee -live music for modern dance with Sangba / CCDC – Kwai sing Theatre Auditorium / HK
-26th - Dickson Dee -live music for modern dance with Sangba / CCDC – Kwai sing Theatre Auditorium / HK
-30th - Dickson Dee + Zbigniew Karkowski – Mao Club / Beijing
Oct
-2nd - Dickson Dee +Zbigniew Karkowski – Freedom House / Changsa
-3rd - Dickson Dee +Zbigniew Karkowski – Vox club / Wuhan
-4th - Dickson Dee +Zbigniew Karkowski – Niniho Gallery / Foshan
-7th - Dickson Dee +Zbigniew Karkowski – Videotage / HK
-8th - Dickson Dee +Zbigniew Karkowski -Dawang Culture Highland / Shenzhen
-17th - Dickson Dee + Martijn Tellinga – Dawang Culture Highland / Shenzhen
-23rd - Dciskon Dee+Sainkho Namchylak+Huun Huur Tu+Peter Sherr-Silk Road Festival / HK
-24th - Dciskon Dee+Sainkho Namchylak+Huun Huur Tu+Peter Sherr-Silk Road Festival / HK
-25th - Dciskon Dee + Sainkho Namchylak -Culture Centre / HK
Dec
-6th - Dickson Dee +Olaf Hochherz – Dawang Culture Highland / Shenzhen
-19th - Dickson Dee – live film music for San Yuan Li – 1850 art space / Guangzhou
-22nd - Dickson Dee – music for the Shenzhen biennale - OCAT / Shenzhen
-26th - Dickson Dee+Florian Schmeiser+Susanne Schuda – Ninliho Gallery / Foshan
-27th - Dickson Dee+Florian Schmeiser+Susanne Schuda – Dawang Culture Highland / Shenzhen
2010
Jan
-8th - Dickson Dee -live performing with CCDC modern dance -choregrapher Sang Jijia -Beijing People's Liberation Army Opera House / Beijing
-30th - Li Chin Sung – Saw music project with Li Yuen Qing – OCAT / Shenzhen
Feb
-2nd- Dickson Dee – sound +video art solo – The Listening Room 3 – Osage Soho / Hong Kong
-24th - 28th Mar - Overlapping Discrete Boundaries Asia 6 city tour – Foshan, Shenzhen, Kulala Lumpur, Singapore, Ho Chi Minh City / Hanoi
Mar
-31st- Turntable solo for art exhibition – Osage Soho / Hong Kong
April
-16th - opening live sounds performing / Guan Shanyue Art Museum / Shenzhen
May
-16th,17th - live music for modern dance / Sang Jijia / LTDX modern dance – Beijing Performing Art
-20th,21st - multimedia live performing in Theater Studio Scandicci / Fabbrica Europa 2010 -Florence / Italy
-22nd - mix media live set on Stazione Leopolda / Fabbrica Europa 2010 -Florence / Italy
-29th - performing at opening Convection·2010 Dafen International Contemporary Art Exhibition – Shenzhen
Jun
-18th - French-Chinese Music Festival tour 2010 / Shanghai
-22nd,23rd - French-Chinese Music Festival tour 2010 / Shenzhen
-24th - French-Chinese Music Festival tour 2010 / Foshan
-25th,26th - French-Chinese Music Festival tour 2010 / Guangzhou
Jul
-24th - Dickson Dee live performing for CCDC modern dance in Guangzhou dancer week in GZ Opera House / Guangzhou
Oct
-23rd - Dickson Dee + Sainkho Namchylak in Xihu Music Festival 2010
Dec
-4th - Dickson Dee with Huun Huur Tu in Shenzhen Fringe Festival opening / Shenzhen
-12nd - Dickson Dee + Sainkho Namchylak – music for film -in Shenzhen Fringe Festival ending program / Shenzhen
2011
-17 Jan – Dickson Dee, Wu Wei & Sainkho Namtchylak trio – Elektroakustischer Salon – Art's Birthday / Berlin
-9 Feb – Dickson Dee live performing for Sang Jijia "As If Nothing" / CCDC modern dance in Singapore Huayi Art Festival – Esplanade / Singapore
-6 Mar - with Liu Qi "Beyond Calligraphy" modern dance in Guangzhou Friendship Theater GDMDC / Guangzhou
-14,15 Mar - with Liu Qi "Beyond Calligraphy" modern dance in Beijing Haidian Theater / GDMDC 2011 / Beijing
-9 April - with Sang Jijia "solitude in number" in Canada's National Art Centre -LTDX/ Canada
-12 April - with Sang Jijia "unspeakable" in The University of North Carolina-Memorial Hall /USA
-3 July - with Zbigniew Karkowski, Brain O'reilly, Sin:Ned, Alok in HK Hidden Agenda /Hong Kong
-26 July - with Sang Jijia -standing before darkness in Guangzhou – LTDX / Guangzhou
-6 Sept - with Peter Broztmann, Xu Fengxia in Shenzhen/ Xiangyunsha museum / Shenzhen
-8 Sept - with poem XXN / Xiangyunsha museum / Shenzhen
-9 Sept - with Sun Cheng Yi, Li Yuen Qing / Xiangyunsha museum / Shenzhen
-10 Sept - with Zenlu as Skybox / Xiangyunsha museum / Shenzhen
2012
-23 March - with Yoshihiro Hanno -audio film mini tour in Hidden Agenda / Hong Kong
-24 March - with Yoshihiro Hanno -audio film mini tour in Idutang OCAT / Shenzhen
-25 March - with Yoshihiro Hanno -audio film mini tour in First Stage / Guangzhou
-16 May - with Lee Hangjun:16mm film multi-projection performing and improvisation / Hong Kong
-30 June - Sainkho and Dickson in Mako Beijing with special guest / Beijing
-25 June - Sainkho Asia Trio in Big LOve Festival / Chengdu
-7 July - Dreamy Senses-with Sainkho's Food Art exhibition in Shenzhen @AT gallery / Shenzhen
-4 Sept - with Sang Jijia / LTDX in Theater Erfurt Germany
-8-9 Sept - with Sang Jijia / LTDX in Palladium / Koln
-11 Sept - with Sang Jijia / LTDX in National Theater / Lativa
-13-14 Sept - with Sang Jijia / LTDX in Warsaw Ballet Theater Poland / Warsaw
-15 Sept - with Sainkho in UCCA Culture Festival / Beijing
-3 Oct - with Sainkho in NUTS Live House / Chongqing
-6 Oct - with Aki Takase / German Chinese Jazz Improvise Meeting Festival / Shenzhen
-19 Oct - with Sainkho+WuWei Asian Trio in New Music Week / Shanghai Conservatory of Music / Shanghai
2013
Jan
-11-13,18-20 - with Sangjijia BeijingDance/LDTX Theatre / Beijing

Mar
-23rd - with Sainkho, Uchihashi Kazuhisa in NEST Art Space OCAT / Shenzhen
May
-30th with Sang Jijia – Not here / Not ever in L'Onde Théâtre et Centre D'Art Vélizy Villacoublay / Paris
June
-3rd - with Sang Jijia – Not here in Bergen International Festival / Bergen / Norway
-5th – with Sainkho in B2 Club / Moscow
-8th – with Sainkho in First Kazakhstan's International Festival of Contemporary Ethnic Music "The Spirit of Tengri" / Almaty
-29th – with Sainkho and friends in Mako Live House / Beijing
-30th – with Sainkho and friends in Beijing MOMA / Beijing
Aug
-1st - 3rd - with Hou Ying in Beijing World Art Museum Theater / Beijing
Sept
-12 Sept - with Iris ter Schiphorst and SUIS students/Urban Nomads in National Amusement Park of Mongolia / Ulan Bator
-13 Sept - Solo in Hanzo Club / Ulan Bator
-20 Sept - Solo in Green Lake/Urban Nomads with guest / Ulan Bator
-27 Sept - solo +guest in Identity /Urban Nomads / National Amusement Park of Mongolia / Ulan Bator

Oct
-12nd - solo set in Shenzhen
-18th - solo sounds performing in Rock Bund Art Museum / Shanghai
-20th - workshop in Rock Bund Art Museum / Shanghai
-25th - "Layer Code" – music for modern dance / Beijing
Nov
-3rd - with Sainkho, Maartin Allcock, Jerry in Wood&Wires Music Festival / Shanghai
-16th - with Grzegorz Bojanek in ChoP project in IDUTANG(一渡堂) / Shenzhen

Dec
-10th - Jazz Improvise Meeting Festival2013 - workshop: Sun Mengjin + Dickson Dee / Shanghai
-12nd - Jazz Improvise Meeting Festival2013 - improvise jam session
-15th - Jazz Improvise Meeting Festival 2013 - workshop band 2012 + workshop band 2013 + DjDee + ZenLu / Q Cafe / Shenzhen
2014
Mar
-22nd,23rd - 舞.聲.道 Momentum 環境舞蹈演出 A site-specific dance performance/ Mount Austin Playground, the Peak / Hong Kong
-28th - Homage to Zbigniew Karkowski (1958 - 2013) /Multi-media Theatre, HKICC Lee Shau Kee School of Creativity / Hong Kong
Apr
-4th,5th - 《前定的暗色》Standing Before Darkness / LTDX theatre / Beijing
-12nd,13rd - 《前定的暗色》Standing Before Darkness / LTDX / National Theater/ San Jose
-17th - 《舞.聲.道》(二部曲)音像裝置展~Momentum -Episode II~A Sound and Video Installation Exhibition / 1a Space Hong Kong
May
-9th -10th - Pathos 《我們笑着舞蹈》 with Sang Jijia for APA / Hog Kong
Jun
-13rd -15th - Urban Nomads in Berlin / Radialsystem V / Berlin
-27th,28th - with Sang Jijia "as if to nothing" CCDC / Fabbrica Europe /Florence / Italy

Oct
-4th - live in Taipei with Sainkho, Lee Shih Yang trio / SoundScape / Taipei
2015
Mar
-13rd- Same Old, Brand New - music for light art installation opening on ICC for Art Brasel HK / Hong Kong
May
-8th-10th - PA|ETHOS live music for modern dance/ Fabbrica Europa / Florence / Italy
Jul
-11st - trio with Park Jechun, Miyeon / Taiwan International Music Festival / Taipei
Aug
-28th - with Sang Jijia "as if to nothing" CCDC/ Niigata International Dance Festival / Japan
Sept
-25th - live music for Coral Bracho / International Poets In Hong Kong/ CUHK/ Hong Kong
Oct
-2nd-4th - with Sang Jijia "as if to nothing" CCDC/ Kuandu Arts Festival / Taipei
Nov
-26th-29th - with Cheri Gao, Huiming, John Lee, Jason, Piji live music for International Hong Kong Poetry Night in HK
Dec
-1st - with Cheri Gao, Huiming live music for International Hong Kong Poetry Night in Guangzhou / Guangzhou
2016
Jan
-16th - In/Out - The 3rd Have Fun Festival / OCAT museum / Shenzhen
Mar
-10th - Fragments - music for modern dance / Hong Kong Art Festival / Hong Kong
Apr
-23rd,24th - iD Town Sound Live Festival / Shenzhen
Jul
-22nd - Beijing Dance Weeks / Beijing
-29th - Dongguan Youth Art Festival / Dongguan
Sept
-22nd-24th - OzAsia Festival / Adelaide Festival Centre / Australia
Oct
-15th - workshop Design & Art Museum / Shenzhen
-28th - MOD (Milosh+Dickson) - Bijiashan Park / Shenzhen
-29th - Sainkho + Dickson - Bijiashan Park / Shenzhen
Nov
-10th - ChoP Festival / Shenzhen
Dec
-28th - Not Your World Music: Noise in South East Asia in OCAT / Shenzhen
-31st - Not Your World Music: Noise in South East Asia in Guangzhou /China" / Guangzhou
2017
Jan
-1st - 191Space / Guangzhou / China 2017
-4th - Not Your World Music: Noise in South East Asia in Shenzhen/China" / Shenzhen
-7th - Not Your World Music: Noise in South East Asia in Xiamen /China" / Xiamen
Jul
-12nd - "临池舞墨 Beyond Calligraphy" 友谊剧院 / Guangzhou
-28th - 5th Aug - 2017 BIJIASHAN INTERNATIONAL PUBILC ART WEEK / Shenzhen
Sept
-30th - Zen Ensemble-Sounds of Wisdom & Desire, Shenzhen Grand Theatre / Shenzhen

Dec
-19th - Jockey Club Street Music Series: Experimental Series Finale , HK Art Center / Hong Kong
-20th - Beyond Calligraphy - special live edition with GDMC in OCAT / Shenzhen
2018
-8th Apr - A live audio-visual journey CHRISTOPHER CHAPLIN & LUMA.LAUNISCH / Chengdu
-7th Sep - Zen Ensemble - Sounds of Wisdom & Desire / Silk Road Journey / Beijing
-21st Sept - 曹斐的《監獄建築師》南音和電子音樂現場 Cao Fei's 'Prison Architect' Live OST with Naamyam & Electronics / Hong Kong
-13rd Oct - The Dialogue between Chinese and Indian Writers / Hong Kong
-Oct 31-3rd Nov - Kwai Tsing Theatre Black Box Theatre / The modern Day Flavours of Nanyin and Naamyam - Artsnap / New Vision Art Festival 2018 / HK
-25th Nov - Musicity Shenzhen
-23rd Dec - TODAY's Forty Years: Launch & Poetry Reading / Hong Kong
2019
-7th March - Noise to Signal 0.52: The Silence Session / Hong Kong
-21st April - The Modern Day Flavours of Nanyin and Naamyam / WeiWuYing / Kaohsiung
-31st July- 3rd Aug - Bijiashan International Public Art Week 2019 / Shenzhen
-9th Sept - music for Book Launch and Poetry Recital - Dusk Glow and the Youth - Mutsuo Takahashi (Fringe Club/HK)
-24th Oct - live music for Suzhou Design Week 2019 / Suzhou
-2nd Nov - live music for Hong Kong International Poetry Festival 10th Anniversary Charity Reception and Poetry Concert / Shanghai
-13rd -17th Nov - with Christopher Chaplin, Jazz Improvise Meeting Festival 2019 / Shenzhen, Guangzhou, Beijing
-19th - 24th Nov - International Poetry Nights in Hong Kong 2019 / Hong Kong
-24th Dec - music for modern dance Yan He Theatre "Kshana" at Salon Theatre Beijing Dance Academy / Beijing
2020
-16th Nov - live music for the film "La Town" - Cao Fei (film director) - Nashan Theater / Shenzhen Fringe Festival 11st / Shenzhen
-18th Nov - "Sound Fun" electronic hardware live set + sound workshop- Nan Tou City fringe Rooftop / Shenzhen Fringe Festival 11st / Shenzhen
2021
-16th,17th Jan - Sunset Concert / 5th Times Museum Community Art Festival / Guangzhou
Christopher Chaplin,王凡,fish.the, df, Zenlu, Zuho,Jent,Iphen Tang, Cheri Gao, 宋子江, Luz Mando, Peter Wullen, Dickson Dee +Sunset Red Ensemble, 越秀光明曲艺队, 社區特邀guest
updated: Jan 2021